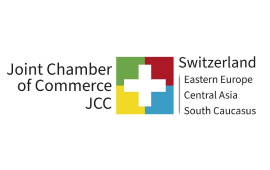 Webinar "Kazakhstan 2023: Launching a New Business Era: Reform, Privatization and FDI Opportunities"
Online
KAZAKH INVEST and JCC would like to invite you to participte at the Webinar "Kazakhstan 2023: Launching a New Business Era: Reform, Privatization and FDI Opportunities" arranged by the Embassy of Kazakhstan and the Joint Chamber of Commerce Switzerland-Eastern Europe, Central Asia, South Caucasus (JCC).
It will be held on April 27th at 11:30-13:15 CET / 15:30-17:15 KAZ
Please see the detailed program and register via the link - https://jointchambers.ch/jcc-events/webinar-kazakhstan-2023/ .

After the introduction by Dr. D.Sallis, JCC managing director, Mr. J.P. Periat, Honorary Consul of Kazakhstan, and Mrs. C.Capaul, Project Manager at economiesuisse, our Ambassador, H.E. K.Sarzhanov will welcome guests and the speakers:

Mr. Saken Olzhabayev, Official Representative in Germany, "NC "KAZAKH INVEST"

Mr. Temirlan Mukhanbetzhanov, Chief Client Officer & Managing Director, AIFC Authority
Mrs. Leila Batyrbekova, Founder and Secretary General, Europe and Central Asia Transport and Trade Association ECATA
Mr. Adrian Ene, SGS, Minerals Services
Mr. Nikolaus Kohler, Regional Managing Director Middle East / Central Asia, M&M Militzer & Münch International Holding AG
You also will briefed by Mr. Periat Briefing about the JCC Mission to Kazakhstan on the Occasion of the Astana International Forum and Swiss Days Kazakhstan.
The event will be closed by the signing of an agreement between Kazakh Invest and JCC.