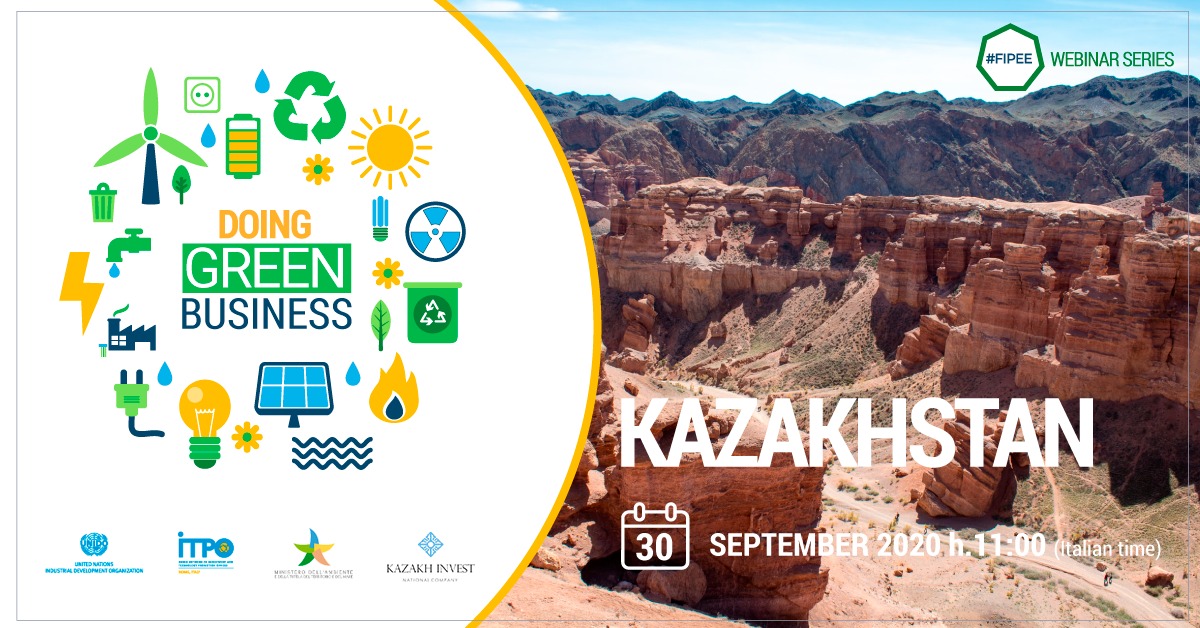 Webinar "Doing Green Business in Kazakhstan"
Nur-Sultan city, Kazakhstan
The United Nations Industrial Development Organization Investment and Technology Promotion Office in Italy (UNIDO ITPO Italy) is pleased to invite you and your professional network to attend "Doing Green Business in Kazakhstan",a virtual thematic country presentation which will take place on 30 September at 11:00 (Italian time) with the goal of fostering trade, technological innovation and investment in the energy and environment sectors between the private sector in Italy and Kazakhstan.
The event is the second episode of the webinar series "Doing Green Business", organized by UNIDO ITPO Italy in the framework of the project "Fostering international partnerships between companies and/or institutions operating in the energy and environment sectors" funded by the Italian Ministry for the Environment, Land and Sea.
In order to discuss ad-hoc trade opportunities and advance international business partnerships for local investment, the webinar series will see the participation of both local and Italian institutional and business stakeholders, promoting renewable energy, energy efficiency and environmental technologies.
By offering insights on the business climate and sector-specific incentives in Kazakhstan, the initiative will support the commercialization and scale-up of alternative, eco-friendly energy sources and innovative technologies for sustainable development.
AGENDA
Moderation by UNIDO ITPO Italy
Welcome remarks
Matteo Petrini | Deputy Head of Mission
Embassy of Italy in Nursultan
Opportunities in the green technologies sector and relevant legal framework
tbd
Ministry of Ecology, Geology and Natural Resources of the Republic of Kazakhstan
Incentives and how to make business in Kazakhstan - focus on waste-to-energy
Aliya Salimzhuarova | Project Manager RES
KazakhInvest
Priority sectors, outlooks and green platform for startups and SMEs
Abilkarov Daulet Maksutovich | Deputy Chairman
Saule Bishimbayeva | Head of the Commercialization Division
Zhasulan Ugan | Manager Technology Transfer and Innovations Department
International Green Technology and Investment Center – IGTIC
Renewable energy opportunities in Kazakhstan
Arman Kashkinbekov (tbd)
Association Renewable Energy Kazakhstan (TBC)
Closing remarks
Asset Baisynov | Head of the Economic Office
Embassy of the Republic of Kazakhstan in Rome
To join the webinar please fill in the online form
To discover more about the Webinar Series "Doing Green Business", please visit the dedicated webpage.
For any clarification or assistance on the above, please do not hesitate to contact us.
United Nations Industrial Development Organization
Investment and Technology Promotion Office - Italy
Via Paola, 41 - 00186 Rome – Italy
Tel: +39-06-6796521 | Email: itpo.rome@unido.org
www.unido.it - www.unido.org