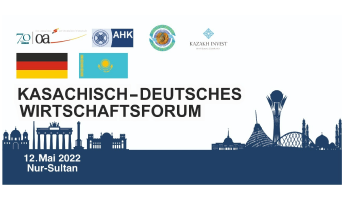 Kazakh-German Business Forum on the Topic "Development of German-Kazakh Economic Cooperation - Opportunities and Prospects in the Field of High Technologies, Green Economy and Logistics"
Rixos President Astana, Nur-Sultan city
On May 12, 2022, KAZAKH INVEST together with interested state bodies and organizations of the Republic of Kazakhstan, as well as foreign partners, is holding a Kazakh-German business forum on the topic "Development of German-Kazakh economic cooperation - opportunities and prospects in the field of high technologies, green economy and logistics".

The forum will bring together more than 150 participants from industries such as manufacturing, agro-industry, financial services, chemicals, mining and metallurgy, alternative energy, infrastructure, logistics, and finance.
For registration enquiries, please contact Nursultan Moldakhmetov - n.moldakhmetov@invest.gov.kz.