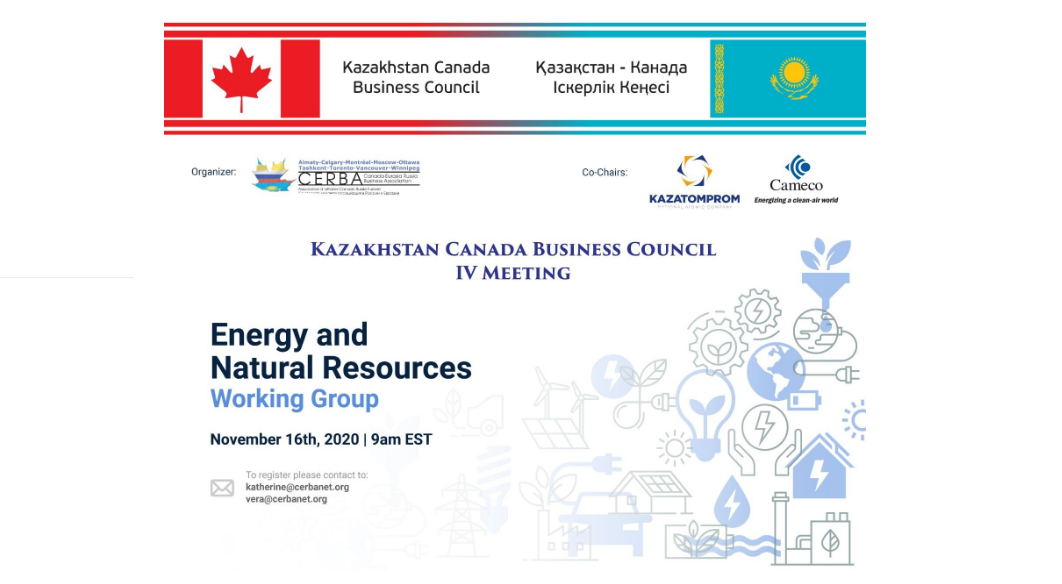 Energy & Natural Resources Working Group Meeting
Online meeting
We are pleased to invite you to join the KCBC Energy and Natural Resources Working Group that will be held on November 16 virtually as part of the 4th KCBC Meeting – Post-pandemic Development of Kazakhstan and Canada Cooperation: Recovery and Development.
Creating the KCBC has been one of the key measures to promote cooperation, trade and investment between companies and organizations of Kazakhstan and Canada. The council is supported by the Canadian and Kazakh Federal Governments and forms a platform to promote a stronger and more multi-faceted relationship between the two countries.
This year, Energy & Natural Resources Working Group will comprise of the Mining, Oil and Gas, and Renewable/Alternative Energy sectors. During the event, the following topics will be included in the program: structural changes in Kazakhstan and Canadian natural resources sector, proactive partnership opportunities, Canadian expertise in the Kazakhstani market and an open discussion of the issues of mutual interest. The Meeting will also convene leading government officials, diplomats, scholars and experts of various fields both from Canada and Kazakhstan.
Please follow the link for more information about the online meeting
https://bit.ly/35Z2IOt