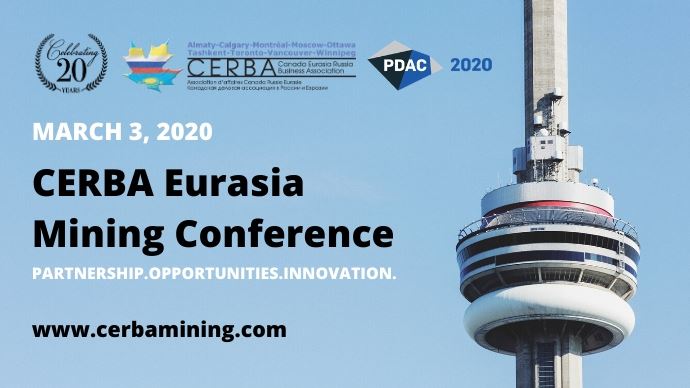 CERBA EURASIA MINING CONFERENCE AT PDAC 2020
Toronto, Canada
We would like to invite you to the 20th Anniversary CERBA Eurasia Mining Conference 2020 that will take place during The PDAC Conference 2020 on 3rd March 2020.

The Conference will cover topics, such as Eurasian markets economic assessment, regulatory updates as well as evaluate mining investment opportunities and new international cooperation projects. In turn, Dilyara Tektigulova, Project Director at KAZAKH INVEST, will present Kazakhstan's investment opportunities and measures of state support available to investors.

This year CERBA will be welcoming representatives of leading mining companies, investors, suppliers, Canadian government officials and officials from the most significant mineral producing regions of Eurasia.
Learn more:
https://www.cerbanet.org/event-3588578?CalendarViewType=0&SelectedDate=1/10/2020